About Us
HANKEI technology is used to create a safe environment for children all over the world to enjoy healthy surroundings.
HANKEI will constantly strive to create a better life and global environment.
All HANKEI products are made with anti-harmful bacteria and anti-harmful viruses for an anti-harmful environment.
HANKEI will try its best to create differentiated eco-friendly products in line with the viewpoints and expectation of buyers and customers.
HANKEI can be defined as follows.
Real Eco-Friendly
Non-toxic & Natural
Beyond Cosmetics
All HANKEI employees promise to create exclusively safe, clean and eco-friendly products with higher efficacy than any other products.
All employees of Hankei Co., Ltd.
CI/BI
Definition: HANKEI's new CI symbolizes the pillars of the center of the building, representing HANKEI's movement to become the center of a sustainable environment.
Color: The blue line color for the cleanliness and trust of nature represents HANKEI's conviction to the 100% natural orientation.
Global: The English logo design will become a medium with the world to present the cooperation within Korea and with the world and convey the spirit of LOHAS (Lifestyle Of Health And Sustainability).
Introduction of CI representing HANKEI and BI representing the brand.
Unauthorized use, combination, arbitrary modification, or recombination of symbol/logo type is prohibited in any circumstances.
HANKEI CI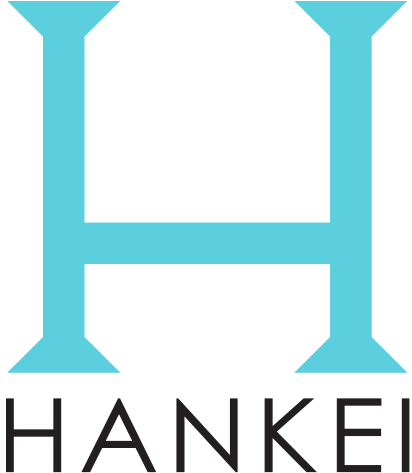 HANKEI BI

Color System
The representative color of HANKEI's CI and BI is PANTONE 3105C.

C

58

M

0

Y

19

K

0